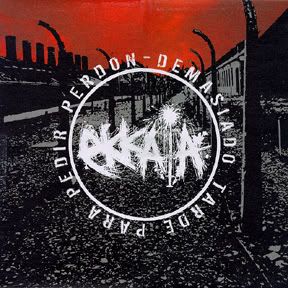 Ekkaia was a fucking awesome crust band from Spain. That's all you need to know about them (and that's pretty much all I know about them). Here are 2 LPs I like by them: Manos que estrechan planes de muerte y sometimiento (Hands that shake plans death and subjugation) from 2002 and Demasiado Tarde Para Pedir Perdon (Extremely late for being sorry) from 2004.
Demasiado Tarde
Manos
Fan Myspace
By the way, tommorow at the Patiphone at Tel Aviv there's a sweetass gig of
Dyse
from Germany, Achzavoth, Suckinim Baenaim and Carusella from Israel for 20 shekels at 5pm, a benefit for their plane tickets back home. Don't miss it!